It rained an awful lot this weekend.  So I set my house mates to work – reviewing my stack of goodies.
First up was the board game PLYT.  Sold to me (by the PRs) as a FUN way to improve the Smalls' times tables, I threw caution to the wind and asked for it to be sent express delivery.
I mean, there can't honestly be a mum (or dad) out there who actually enjoys delivering the barrage of 7×3 or 12×8 on the school run?  And when the little darlings eventually get them right, you find that their relationship with numbers has been damaged forever.
So – while dinner was cooking on Saturday night – we gave it a go.
At first we were all a bit consumed by the game's name.  PLYT.  Playing Times Tables was my guess.  One of the Smalls thought it was something to do with plate breaking (sp?)  None of us were sure how to say it.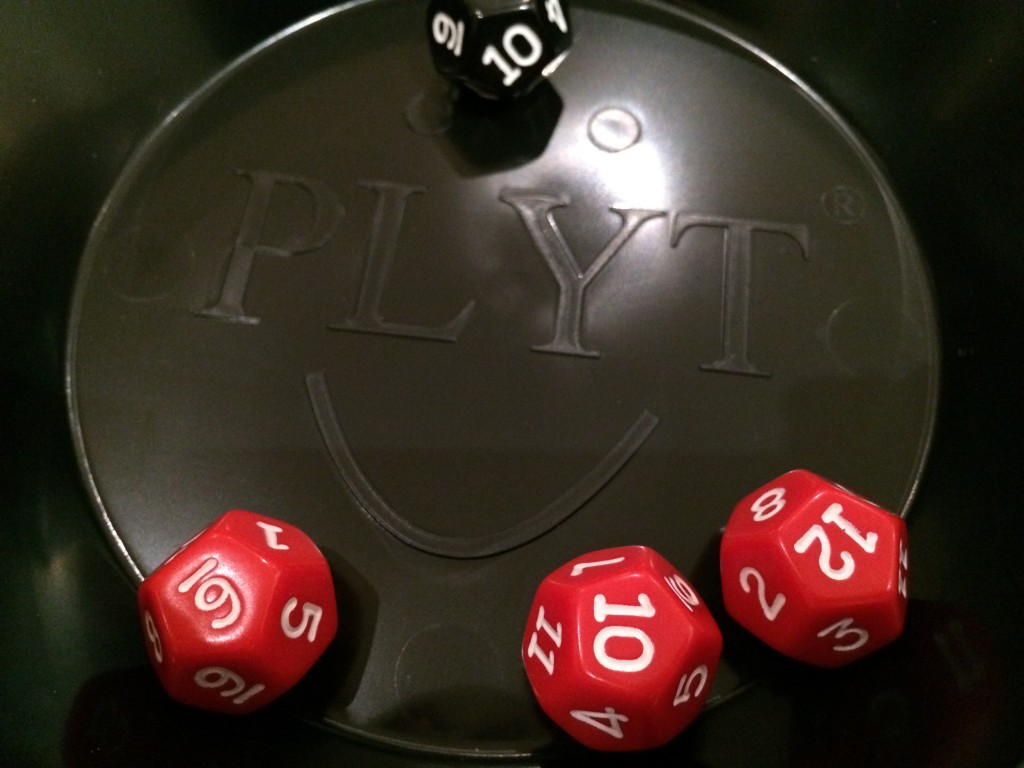 My next challenge was working out which of the different ways the game can be played we should plump for.  The easiest, we all agreed.
(Why does the reading of any game instruction feel like the biggest challenge of all?)
Anyway, the promised simplicity of this game didn't come across initially, so we just set up and got going (instructions in hand).
The varying ability to multiply is leveled out by the number of dice you throw.  He and I had to throw 3 (12 x 11 x 8 = not easy!) but the Smalls had only 2 to throw.  There is a standard dice too.  The number shown is how many you can move forward, with each correct answer.
Small didn't like getting the answers wrong.  And he didn't like Mini getting them right either.
The game was invented by a family.  One which perhaps likes times tables more than us.  Maybe more than they like the money counting in Monopoly.  And sloting the disks in Connect 4.  Of course, I can see the benefits in playing but I'm not sure, after homework, the Smalls would gravitate towards it.
Perhaps I should offer it to one of their teachers for some classroom 'fun'….
STOP PRESS!!  Small's homework tonight was to learn the 8 x table.  He devised his OWN version of the game.  The standard dice was set on 8.  He rolled the red one.  With each right answer he helped himself to the Malteser jar. No other instruction needed.
The PLYT Numeracy board game (£24.67) is for sale on Amazon.