The audience is in their seats.  Squirming and twitching with slight status anxiety, as these seats are priceless and a little inaccessible.
The stage is set.  A stunning 1889 Grade II-listed Victorian-gothic fire brigade building with a discreetly gated garden as the entrance.  Handsome tall, flat-capped doormen mark the entrance.
Enter stage right: André Balazs – a Hungarian-born US citizen with a hotel and restaurant empire (think Chateau Marmont in Hollywood and The Mercer Hotel in NYC).
Enter stage left: head chef Nuno Mendes – ex Viajante and a man who can do no wrong in any kitchen.
WHOOSH. Suddenly the curtain has been swept aside to reveal what is, quite frankly, the biggest show in town.  It's Day 17 and Chiltern Firehouse is already smokin' hot.  Full of insanely beautiful (or famous, or both) guests waited on by a team of the best cheekbones I've ever seen.
Last week, I begged for a booking at their kitchen counter, even offering my firstborn as a sacrifice …  (I had read that the counter is the best place to sit and wasn't going to settle for any less.)
Actually, I lie.  It was easy to book once I mentioned the word REVIEW.  Beautiful people love to be written about.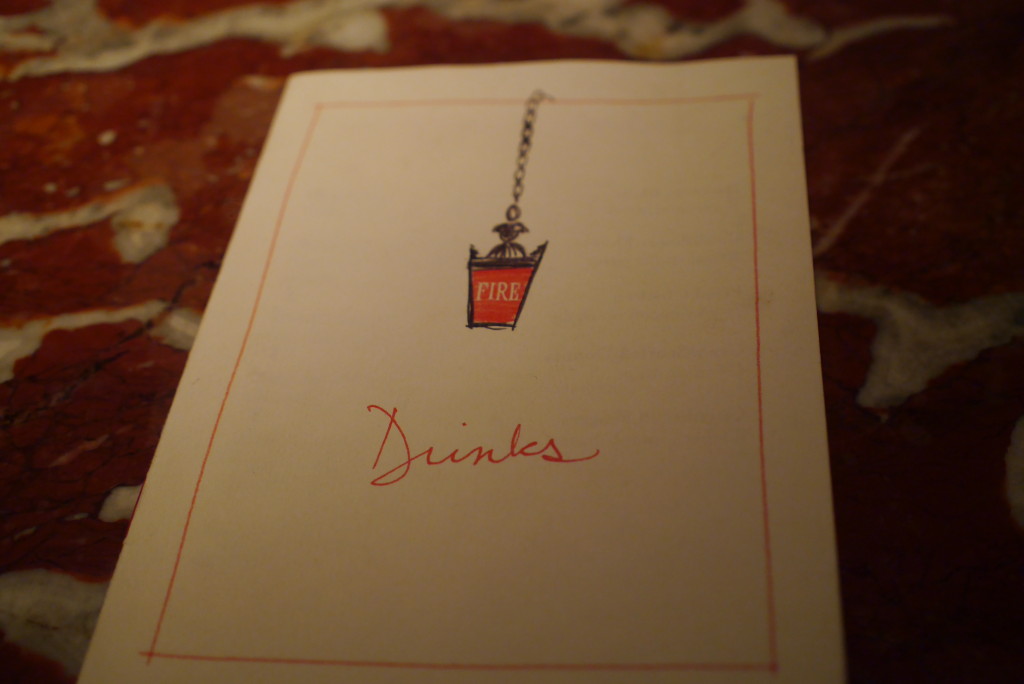 So, last night, after a quick Bellini at the bar (quick as in 2 seconds before it was placed in front of me), Juicy Lucy and I were escorted to the kitchen counter.  Passing David Walliams, Jo Wood and various other 'famous' en route.
The buzz is immense.  Everyone is there to be spotted and to spot. I've never seen a Monday night quite so jubilant.
We shared 3 starters, served by at least 4 different members of the handsome Firemen team (who by the way are mostly bearded).
And then for main,  I chose another starter.  Steak Tartare with pine nuts and chipotle spice with a portion of French fries.
Sitting opposite the kitchen was indeed superb.  I counted at least 14 chefs silently at work in their lavishly open plan workshop before Dale Osbourne (head chef when Nuno is off) popped over to chat a little to us.
I didn't want to go home.  Ever.  And not because I'm one of the beautiful people but quite simply because I love the thrill and excitement of the Firehouse.   Shiny, happy people.  Who cares if they're twitching a bit.
 Chiltern Firehouse 1 Chiltern Street W1