Martin Morales.  He… is THE man.  And – from the little I know of him – I know that he'll blush reading these words.  If you're trying to place him, let me help.  The UK's Peruvian (ambassador) who launched Ceviche in Soho a couple of years ago.  The former DJ and founding member of iTunes Europe.  The man I went to hear speak at Innocent Inspires.  But mostly importantly, the most humble (yet talented) man in London's restaurant world.
Bearing all this mind, imagine how excited I am to find him serving at the tables in Andina, his new 'picanteria', a traditional Peruvian community restaurant, last Tuesday evening.  The 80-seater was packed full of those trendy Shoreditch types and the atmosphere is cool, yet a warm cool.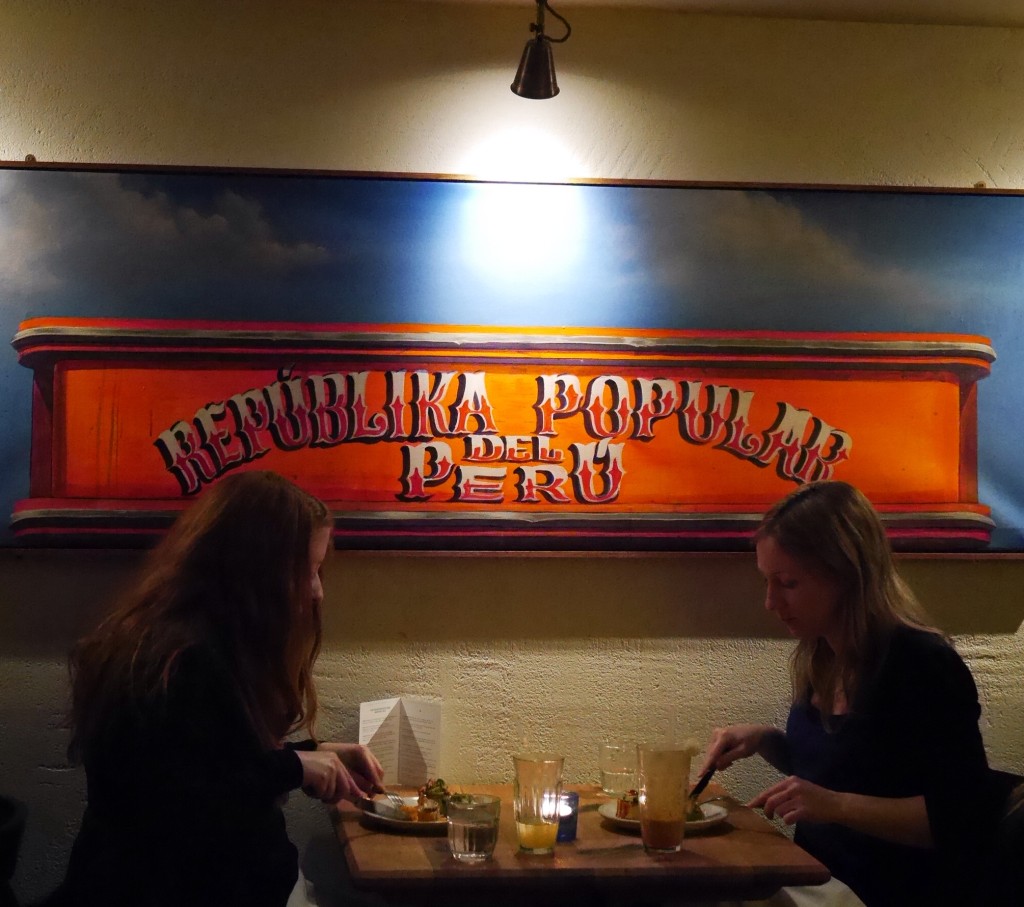 I was meeting one of my besties.  She and I worked together – for a gadget shop – in the 1990s.  Gadgets were the business back then and with her as the retailer's buyer and me as their PR, we rocked.  Or, at least, we reckoned we did.  Anyway, almost 20 years later and I STILL clutch my sides when she gets going.
Actually it had been her suggestion that we should meet at Andina.  Firstly, she lives East.  Secondly, her Him (a King in the music world) knows Martin well.  And thirdly, we needed a New Year drink before January was out.
So we ordered pisco sours (of course) while we perused the menu.
2 from the ceviche section to share as starters:  Sato (trout in rocoto pepper tiger's milk) and Siwichi (chunky seabass in Amarillo chilli tiger's milk).
And then she poked fun at me when I ordered the quinoa burger – but I shouldn't reckon she'll mince those words again.  It was a WINNER.
Before dessert, the main man was back to show us around his joint.  His passion and involvement in the décor at Andina is a big give-away.  It's subtly Andean so that the theme doesn't feel over powering at all.  I loved the open kitchen and would request (next time) to sit at the bar and watch the assembly of super delicious super foods (so much of Andean food is really good for you).
However it's the Music Room – a 14-seated private dining area – that is Martin's icing.  His collection of 7-inch Peruvian singles from the 60s/70s together with his super-cool in-house record label, Tiger's Milk Records line the walls.  So while you're reading this review, I'm busy working out who would be my 13 guests for a private dinner right here, sometime soon.  Well, actually, I'm only looking for 12 as Martin would be amongst us.
Andina 1 Redchurch Street E2 020 77392446