Are you hooked to Serial? Do you even know what it is?
Well, this is ALL I have been asking everyone who'll listen over the last couple of weeks. I'll give you a clue – it's not on TV.  But it does have more than 5 million listeners on iTunes. It's a real MURDER investigation… released in weekly podcasts (12 installments in total) from the team at This American Life led by Sarah Koenig. And she is the key here – the super talented journalist/producer and draws us into this rather complicated 1999 Baltimore crime scene from the very first episode.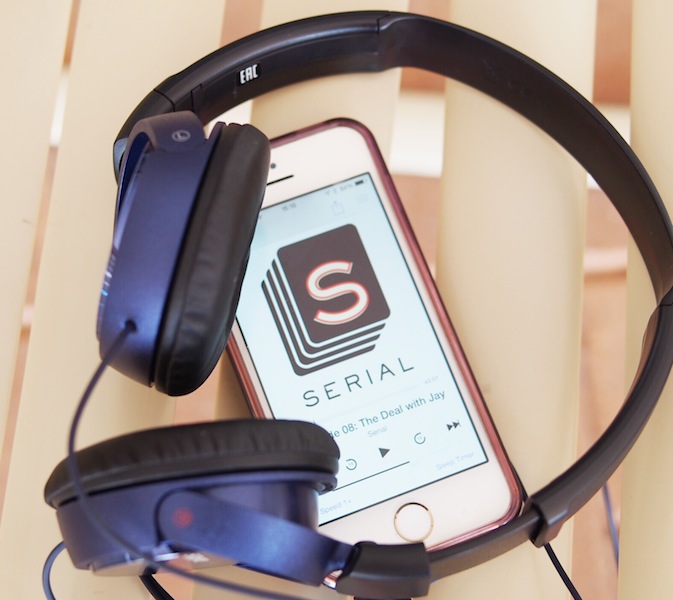 In short, high school student Hae Min Lee went missing and her strangled body was found in Leakin Park a few weeks later. Her ex-boyfriend, Adnan Syed, was charged with her murder, convicted and sent to prison for life plus 30 years. But… he has always protested his innocence, the facts are shady and Koenig won't let it lie.
I strongly advise you to download it now. I won't publish any spoilers but just to say it has slightly blown my mind for the following reasons:
I had always thought that innocent and guilty were two very distinct camps. Swinging from one possible culprit to another as each episode provides additional information, I wondered how on earth those 1999 legal teams could have done such a sloppy job all those years ago. (and how often this perhaps happens in other inquries when the investigative team are keen to put the case to bed.)
Syed is a curious character which shrouds him in a vale of negativity. Koenig spends hours on the phone to him trying to make sense of his lack of memory and honesty. But then he has spent the last 15 years locked up, which may explain his control, hyperawareness and complacent manner. Most of my addiction to this serialisation is centred around this man and his motivations.
Serial manages to humanize the investigation behind this murder. How messy it all is. How easily someone innocent could be charged, simple for the sake of allocating blame or just because his time is unaccounted for.
And how thrilling and juicy a murder case can sound but – in reality – how desperately awful and scary (and expensive) it must prove.
This is a true story littered with time lines, phone records, alibies and evidence. It will test your listening skills, analytical aptitude and leave you wanting more, more, more.
Let me know when you've completed the 12th episode so that we can continue discussions while waiting for Koenig's second season.