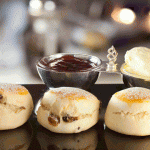 My plus ones tend to find me, rather than me choosing them.  Over-heard mobile conversations, previously arranged rendezvous and long over-due catch ups make choosing my companion for reviews easy.
The small people in my life, however, feel that they miss out.  Evening reviews mean that I sometimes not around for that last kiss goodnight or simply knowing that I am dashing for the front door as their head hits the pillow can make for disgruntled housemates.
So when the opportunity came up for me to review the recently re-launched afternoon tea at Chinoiserie at Jumeirah Carlton Tower, designed by renowned patissier Eric Lanlard, Mini-Me begged with all her might to be my plus one.
In a distinctive move away from traditional finger sandwiches and cream cakes of the quintessentially English afternoon tea, Eric was adamant that he, in partnership with the 51 year old hotel, should create a tea which invokes a 'dream of the Orient'.  How curious my 7 year old rightly thought as, once the tea was laid out in front of us, our waitress sprayed us and the lavish spread with a mist of Oriental scent.  The hotel's marketing manager explained that the French master patissier was keen to reflect the numerous oriental and middle eastern guests choosing to stay in this hotel, located just off Sloane Street.
To read my full review on West London Living, click away.