Mr Perfect is in town.  Actually, to be really accurate I should refer to him as Mr Perfect Jnr.  Less than 2 years old and utterly perfect.  His father (my little brother) was nicknamed Mr Perfect around 36 years ago because he probably seemed perfect next to me his older (by a year), naughtier sister.
Looking for cousin treats while they are visiting from sunnier Iowa, we thought it would be worth giving the red and yellow striped Puppet Barge in Little Venice a go.  The 55-seater puppet theatre has delighted many children over the last 30 odd years with its imaginative, and at times musical, animation.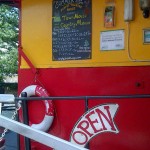 The ship bell rang and an adaptation of Aesop's Fable The Town Mouse and The Country Mouse kicked off.  With additional animals as well as some favourite nursery rhymes, our 7 and 6 year old adored it as much as Mr Perfect Jnr (who clearly thought the animals on rods were real) and we all sang along enthusiastically to Green Bottles on the Wall and Hickory Dickory Dock.
The only disappointments from the small people was that the barge didn't 'set sail' – oh and that it wasn't Royal.  But all in all, a fun show so do add it to your list of 'worth-doing'.
To book:  Puppet Barge  020 72496876