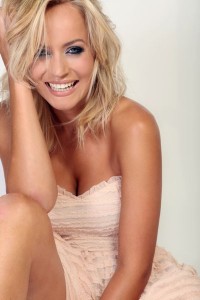 Pollyanna Woodward is a vivacious, confident TV presenter.  Admired by many for her ambition and drive, she is pretty much always on the go. Currently filming her fourth series for the hugely successful Gadget Show: World Tour on Mondays 8pm on Channel 5, I managed to track down the techy queen:
What drives you? 
Happiness and positivity…….I have to love what I do and who I have in my life.
Socialize in the local pub or social media?
Social media
Gadget or book?
Gadget…I can read books on a gadget
Extreme challenge or relaxing massage?
Extreme challenge……life is for living.
Best techy bit of kit ever invented?
The MP3 player.
The Voice or Britain's Got Talent?
The Voice
What do you Wannabe?
A Happy Bunny!!
How would you describe yourself in three words?
Positive, vivacious, fun
Ideal TV dinner?
Chilli con carne and rice
Dinner guest?
My Boyfriend
Tell us a secret…..
I write a journal
What is currently on your Culture Compass?
The Pyramids in Egypt
This interview appears on Culture Compass.