Taking me aside, Girlfriend 1, in a barely audible whisper, confided in me.  She 'needed' to dance.  Could we possibly organise a girls night where we dance our socks off/let our hair down?  It sounded like a perfect plan.  Girlfriend 2 and 3 immediately agreed.  The date was set and then our husbands duly informed.
Venue-wise, we were concerned; we all had slightly different music tastes.  And then I remembered Maggie's, the 1980s inspired boutique club in the heart of Chelsea, owned by the same crowd as the wonderfully bonkers bar, Barts.  There wasn't a girl amongst us who wouldn't want to fling her arms up in the air as 'Everybody Wants to Rule the World' fills this small, crowded, slightly sweaty basement bar.
But arrangements were still somewhat up in the air.  As Maggie's doesn't open until 1030pm, we needed a cocktail hole to kick us off in the right direction.  A very helpful PR girl in-the-know recommended we paid a visit to the brand new bar and restaurant, Honky Tonk, minutes away from Maggie's.  A New York themed restaurant (we ate Mac 'n' Cheese and Beef Ribs with Rosemary Fries) with some splendid cocktails, this brainchild of Mark Cutler, one of the founders of supperclub, is clearly going to be a winner in 'Little Chelsea'.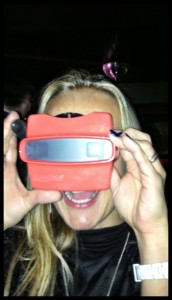 As with all new venues, the team were just finding their feet but managed to look after us beautifully despite juggling the hords of Friday night drinkers.  And as we tottered down the Fulham Road in the pouring rain, we felt well and truly ready to go back in time.
The interior of Maggie's is iconically 80s:  from the giant Rubik's cube tables to Thatcher speeches broadcast in the loos.  The walls are lined with images from the A-Team figures to A-Ha platinum discs (there is even a photo of Neil Kinnock!) and the waitresses are dressed in neon leggings and permed wigs.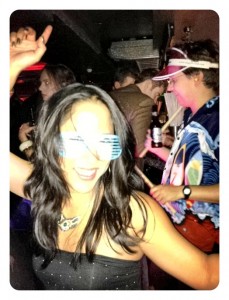 The crowd was mostly double-barreled and 100% pin-striped.  The drinks were ridiculously expensive and, after midnight, the crowds made it harder to get served.  But the music is wonderful and the atmosphere electric.  Every Rupert and Harriet is your new best friend, making it a great way to relive the Maggie decade.
Honky Tonk 6 Hollywood Road SW10
Maggie's329-331 Fulham Road, SW10