West London foodie destinations were my thing when I wrote more for West London Living than my own word hole.  And then I became obsessed with the East.  Tramshed, Lounge Lover and now the recently opened Clove Club quite honestly sneeze over some of their locationally-challenged competitors.  But now that I am a columnist for the must-read, property-bible North West Resident, it's pretty clear that the editor needs me to eat locally whenever possible.
We all know only too well that St Johns Wood has never been known for its culinary delights.  Impressive Elnette blow dries, Harry Morgan's steaming chicken soup and Panzer's fresh bagels tend to scent the NW8 air… so any change of gastropub ownership complete with full refurb deserves a visit from their local blogger.
The lunch to be reviewed was efficiently set up by the New Inn's PR.  And then the date was scrubbed out due to their new chef being 'out of the country'.  A new date was agreed and, seeing as it was school holidays, I suggested that the Smalls should come and review with some of their mates (and Mum) in tow.  Actually their mum is one of my closest and bestest and we already had existing plans that day: Friday morning is when she bakes her challah (jewish plaited bread) and we had penciled in a yeast-rising/blog post session. (just wait til you see forthcoming blog post).
Back to the new New Inn.  Located next to a council block, the old New Inn had always attracted its neighbours.  The new owner, Nick, bought the property 18 months previously and has spread his glossy paint from floor to ceiling.  I thought it looked fine.  Friend has a better trained eye and thought it was a shoddy job as she pointed out the damp walls and cheap interior tricks.
Other than a table of 2, we were the only lunchers that day.  The kids menu looked spot on and we ordered away while the 5 Smalls crayoned to their delight.  (I'm always fully appreciative of a restaurant which caters for the kids and their drawing habits).
More than 30 minutes later, the food hadn't arrived.  Nick kept assuring me that it was almost ready.  I did the maths:  two salads (no cooking), smoked salmon sharing board (no cooking), four plates of fish goujons (max 15 mins) and one of chicken nuggets (max 15 mins).  Something was amiss.
And then, when the food did arrive it was hideous.  Utterly hideous.  Inedible.  The fish goujons lacked fish.  The chips were as salty as the Mediterranean. Perhaps even saltier.  The smoked salmon had dried edges.  The tomatoes in the salad had some blue paper stuck to them, the cucumber was frozen.  The grease on everything quite frankly made me want to wretch.
A quick mum decision was made: this food was NOT to be eaten.  We needed to exit all five kids as quickly as possible.  Unsurprisingly, there was no bill to be paid and, while Nick did look sheepish as I tried to explain our predicament, all he could utter was that his cook was away.
Once home, I made a few sandwiches for the Smalls while Mini decided she wanted to write her own review: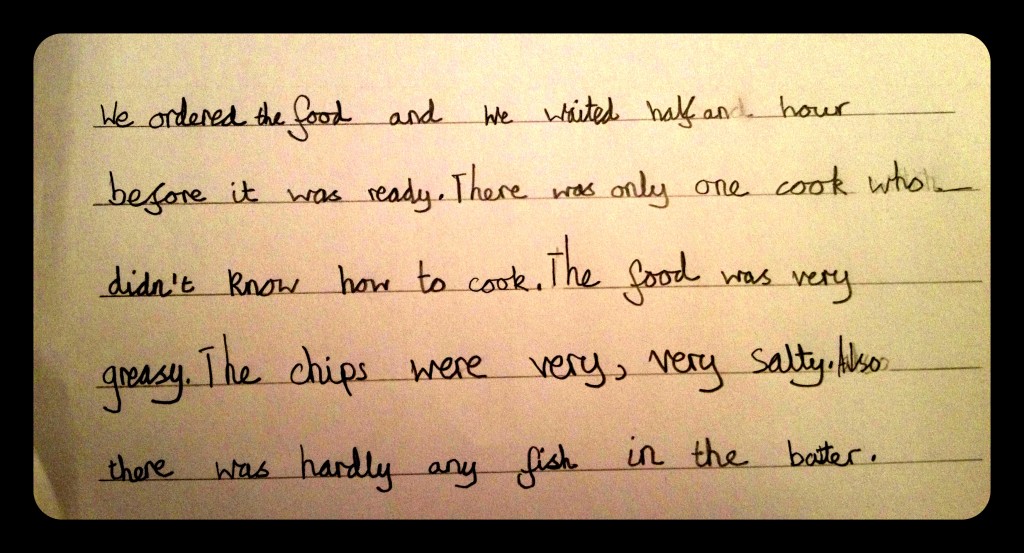 The New Inn 2 Allitsen Road NW8